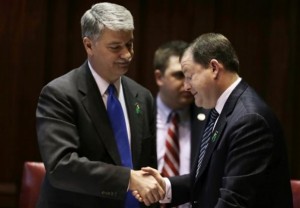 Gov. Dannel P. Malloy, who four months ago broke the news to shocked parents that their children had been slaughtered in a Connecticut elementary school, was expected to sign into law Thursday sweeping new restrictions on weapons and large capacity ammunition magazines similar to the ones used by the gunman.
Malloy's office said he would sign the bill at a state Capitol ceremony at noon, only hours after the General Assembly approved the measure early Thursday morning to give the state some of the toughest gun laws in the country.
In the hours after the shooting Dec. 14 at Sandy Hook Elementary School, as anxious family members gathered inside a firehouse and waited for news, Malloy told them their loved ones were not coming home. He said later that he didn't think it was right for the families to wait for the victims — 20 first-graders and six educators — to be formally identified.
"I made the decision that — to have that go on any longer — was wrong," he said.
Now, Connecticut will join states including California, New York, New Jersey and Massachusetts in having the country's strongest gun control laws, said Brian Malte, director of mobilization for the Brady Campaign to Prevent Gun Violence in Washington.
"This would put Connecticut right at the top or near the top of the states with the strongest gun laws," Malte said.