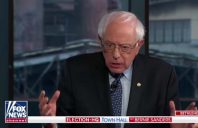 Bernie Sanders draws enthusiastic cheers in surprising Fox News town hall. The setup looked potentially hostile but became a free, hourlong commercial for the Sanders candidacy, broadcast to Fox viewers.
At every turn they clapped and cheered, enamored with the candidate's prescriptions for universal healthcare, a humane attitude toward immigrants and the rejection of climate change denialism.
Bernie Sanders was the candidate, and the people clapping and cheering were audience members who turned out in Bethlehem, Pennsylvania, for a televised town hall on Monday night sponsored by none other than Fox News.
Sanders' decision to participate in the event had been the object of some skepticism and even criticism by Fox News detractors, who argued that in the Donald Trump era the cable channel has completed its transformation into a state news propaganda organ.
Part 1
Part 2